Incheon North Port Hinterland (Hanjin Heavy Industries Site)
Connected to Seoul Ring Expressway II, Incheon International Airport, and Incheon North Port, the Incheon North Port Hinterland is being developed as a logistical hub and support site for the Incheon Port.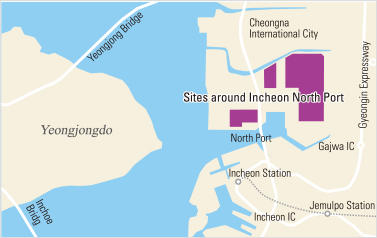 Currently, investors are building logistics facilities, support facilities, commercial facilities, and knowledge industry research centers in sites near the Incheon North Port Hinterland area (607,068㎡) parceled out as part of the hinterland development initiative.
Summary of the Project
Location: Incheon North Port hinterland area, Wonchang-dong, Seo-gu, Incheon
Site: 607,068㎡ (approximately 183,638 pyeong, 66 lots)
Project Duration: 2012 ~ 2019
Approved Usage: Factories, warehouses (logistics, lumber, steel, distribution), limited range of commercial facilities, etc.
Developers: Hanjin Heavy Industries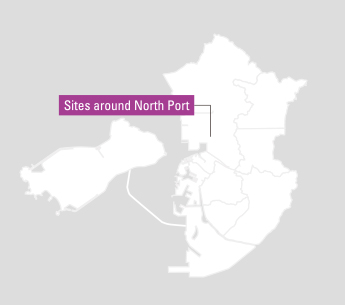 Investment Environment
Price (per pyeong): Industrial land KRW 3.6~4.7 million / Commercial land: KRW 6.8~8.0 million
Current Status of Incheon North Port Hinterland Development
Current Status of Incheon North Port Hinterland Development

Project, Size (㎡), Purpose, Duration, Department, Status, Note로 구성된 표

Sort
Total Area
Total Area Available for Development
Development
Complete
Land Donation
(including expected donations)
Site Area (㎡)
2,549,528㎡ (100%)
607,068㎡ (23.8%)
1,375,747㎡ (54%)
566,713㎡ (22.2%)
Inquiries
Investment Promotion Division (032-440-3291~4), Incheon Metropolitan City Government.
Affiliated Organizations: Management Support Department (032-421-9400), Hanjin Heavy Industries Incheon Regional Office.