What is Visa?
All visitors to Korea should possess a visa that corresponds to their purposes for entering Korea. The visa should be pasted on the passport. In Korea, a visa represents the 'consul's act of recommendation for a foreigner's entry request.' Therefore, even if one were to have a Korean visa, one can still be denied the entry into Korea should an immigration officer find some requirements unsatisfactory after inspection.
※ Korea Visa Portal (https://www.visa.go.kr): Provides accurate information on visa-related matters, as well as easy and convenient services for visa application and issuance (Available in English and Chinese)
Republic of Korea Visa
Visa No.: Serial No. of Visa Issuance
Status: The type of identity or social activities the foreigner may engage in while residing in Korea
Period of Sojourn: The period of stay allowed starting from the date of entry into Korea
Entries: Visa type (S: Single-entry Visa, D: Double-entry Visa , M: Multiple-entry Visa )
Issue Date: The date of visa issuance
Final Entry Date: Expiration date of the visa
(Entry into Korea must be done by the Final Entry Date. The visa will be invalid after the Final Entry Date)
Issued at: Information on the diplomatic mission that issued the visa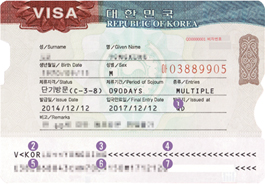 Visa Types by Stay Status
The types of Visas by stay status are divided into a total of 15 categories as shown in the image below. More details may be found on the Korea Visa Portal (https://www.visa.go.kr) → Visa by Categories.
Visa by Categories
Short Term Visit, Medical Treatment, Study·Language, Professional, Intra-Company, Journalism·Religious Affairs, Investment, International Trade, Overseas Korean, Work and Visit, Family Visitor·Dependent Family, Marriage Migrant, Trainee, Non-Professional, Diplomacy·Official Business
Click on 'Diplomacy·Official Business' for information on the application eligibility and range of activities for Diplomacy (A-1) and Foreign Government Official (A-2) visas.
Procedure for Visa Issuance
Visa Application and Place of Issue: Korean embassy or consular office
Visa Application via Korean Diplomatic Missions Abroad
STEP1

Application

Submission of Application

STEP2

Visa Consul

Reception & Review(Diplomatic Office)

STEP3

Visa Consul

Visa Issuance(Diplomatic Office)

STEP3

Application

Arrival in Korea
Source: "Be an Incheoner" - Guidebook for Foreign Residents in Incheon