Geomdan New Town Logistics and Distribution Facilities Site
With the Geomdan New Town project, Incheon hopes to build a high tech, future-oriented city that is well prepared for the 4th Industrial Revolution. When complete, Geomdan New Town will offer housing, jobs, and cultural venues for younger generations. Also, Geomdan will become an environmentally friendly city with "green growth" policies and a low carbon footprint where people can come to recuperate and lead healthier lives.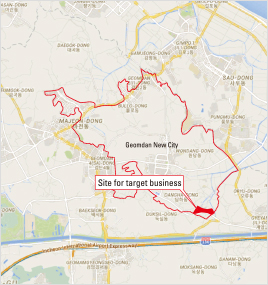 As an eco-friendly and self-sustaining city, Geomdan New Town expects to accommodate 75,000 families (approximately 184,000 people). It will help balance out the development of the metropolitan area, and offer stability in terms of housing and welfare for its residents. The first phase of the project will involve supplying the market with real estate plots designated for logistics and distribution, where investors will be able to build logistics warehouses, distribution facilities (large stores, specialized shopping complexes, delivery facilities), commercial facilities, and residential facilities.
Summary of the Project
Location: Wondang-dong, Dangha-dong, Majeon-dong, Bullo-dong
Site: 11,181,139㎡ (3.38 million pyeong)
Approved Usage: Residential, commercial, business, urban support facilities, logistics and distribution facilities, etc.
Total Project Cost: KRW 8.4 trillion
Planned Population: 183,720 (75,071 households)
Project Duration: 2007 ~ 2023
Developers: Incheon Metropolitan City Development Corporation, LH
Inquiries
Investment Promotion Division (032-440-3286~8), Incheon Metropolitan City Government
Affiliated Organizations: Incheon Metropolitan City Development Corporation, LH Geomdan Overview Team (032-260-5706)