Residential Waste Disposal
We have a "Volume rate Garbage Disposal System" here in Korea, which is to bear the expense of waste treatment as much as the trash each takes out. It aims to reduce wastes by charging people to pay as the throw and to lead them to separate and send out the recyclable wastes. To dump the trash, you should use a standard plastic garbage bags which you can buy at the near Supermarket.
General Waste
‌If you dispose of garbage using the standard plastic garbage bags in a designated place, the waste disposal team will collect them during the appointed time.
‌Since the standard plastic garbage bags vary according to the districts, you need to check before buying them.
‌
‌Only in the case that you move out to another area, you may use the rest of the garbage bags in your possession.
Food Waste
‌As the food waste will be used for the animal feed or compost after the recycling, you should drain the water and remove the harmful substances before throwing them out.
‌‌To throw the food wastes, you should put them in the standard plastic garbage bags or buy a sticker or a payment bill to throw it at the designated place.
‌‌The container might be damaged if it is outside so that you need to bring it to the inside to avoid the repurchase. Otherwise, you may have to buy one again. ※ In case of the apartments or multi-unit dwelling, the food waste container is already arranged.
How to separate food waste
Rinse high sodium foods such as soybean paste, red pepper paste, soy sauce and kimchi etc. before disposing them.
Tooth picks, disposable chopsticks, plastic, bottlecaps, shells, etc. should be removed.
Substances other than food waste should be discharged in to the standard plastic garbage bag.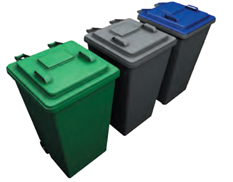 Waste that must be separated from food waste
The following should always be disposed as general waste.
Waste

Type, Waste that must not be included in food waste 로 구성된 표

Type
Waste that must not be included in food waste
Vegetables
Skins of onions, corns and corn and pepper stalk.
Fruits
Hard skins of walnuts, chestnuts, acorns and more.
Seeds of peaches, apricots and persimmons and more.
Meats
Bones and feathers of cow, pig, chicken and etc.
Shellfish
Hard skins of shells, conches, abalones, ascidian, oysters, crabs and lobsters.
Dregs
Disposable tea bag, dregs of medicine.
Recycling Waste
‌You are contribute to environmental protection if you recycle and reuse the waste.
‌In Korea, currently it is compulsory to collect separately and recycle specific items
Recycling waste by items
Internet

Type, Recyclable, Non-recyclable 로 구성된 표

| Type | Recyclable | Non-recyclable |
| --- | --- | --- |
| Paper items | Newspaper, book, notebook, wrapping paper,corrugated paper, paper bag, paper box, paper,paper pack. | Vinyl-coated paper bag, polluted paper cup |
| Glasses | Beer bottles, wine bottles, soda bottles, wastemarked glass | Glass, mirrors, heat-treated dishes milky white(milk color) bottles, cosmetic containers,chinaware |
| Iron scraps | Beverage cans, spray cans, butane gas can,aluminum, stainless steel utensils, tools, wire, ironor waste marked wire | paint tins, oil cans, harmful objects, packagingcontainers |
| Styrofoam | Protective packaging article for appliances,containers for fish or fruit, washed cup noodlecontainers | Disposable plates |
| Plastic | PET,HIPE,LDPE,PP,PS,PVC,OTHERmarked | Pens, buttons, sockets, toys, baby walkers,phones, disposable cameras, electric stove |
| Milk cartons | Milk cartons | - |
| Fluorescentlamp | Unbreakable fluorescent lamp, electric bulb | Broken fluorescent lamp, electric bulb |
| Plastic bags | Plastic bags (white, black, etc.), noodle bags | Contaminated plastic bags |
| Wastebatteries | - | Apartments, subway station, Dong communitycenter, school etc. |
Small Waste Items
‌Waste of mobile phones or waste of small appliances can be disposed without any additional fees. (Waste treatment may differ for each gu office. Please check the website for details.)
‌
‌The waste of small appliances has only to be disposed with other recycle waste on collection day and the waste of cell phone has only to put into green box installed in a Dong Community Service Center. You may inquire the sales agency for more information.
Bulky Waste Items
‌‌Bulky waste items (example: furniture, appliances) that cannot fit in a garbage bag. You have to report it to the district office.
How to dispose of bulky waste items
Request for Waste Collection

Buy an adhesive label at the relevant district office or a designated store that carries large-size waste labels (outlet, apartment administration office, etc.) and take out the waste on the desired date with the label on it.

‌‌Since stores that carry waste labels may differ depending on the county or district, be sure to check the website and the department responsible for cleaning in advance.
‌‌Information (Cleaning services) at Each Gun/Gu Administrative Districts

bulky waste items

District,Telephone 로 구성된 표

| District | Telephone No. | District | Telephone No. |
| --- | --- | --- | --- |
| Gyeyang-gu | 032-450-5443 | Seo-gu | 032-560-4392 |
| Michuhol-gu | 032-880-4353 | Yeonsu-gu | 032-749-7853 |
| Dong-gu | 032-770-6410 | Jung-gu | 032-760-7412 |
| Namdong-gu | 032-453-2550 | Ganghwa-gun | 032-930-3336 |
| Bupyeong-gu | 032-509-6600 | Ongjin-gun | 032-899-2620 |

Request via the Internet

Find 'the area of cleaning/environment/hygiene' at the website of the competent district or county, and then click 'large waste discharge.'
Pay the fee and have an label for large-size waste affixed to the item.
Recycling center's free waste collection services for large household appliances
In Incheon, the recycling centers operated by the private sector are operated in each gu.
The recycling center is a place to display and to sell the appliance and furniture.
When throwing away large appliances, a member of the recycling center staff will visit and collect the large appliance with free of charge if you call the recycling center.
(You can get contact and website information of related recycling centers if you search the keyword 'Incheon recycling center' in the portal site
Source: "Be an Incheoner" - Guidebook for Foreign Residents in Incheon