Incheon Namdong Urban High Tech Industrial Complex
I-FOOD PARK (specialized food industry complex) is expected be a forward base for companies looking to produce hygienic, safe food, and venture into not only the domestic foods market, but also overseas markets such as China.
Construction of Incheon Namdong Urban High-tech Industrial Complex requires a total of KRW 168.5 billion in investment (KRW 118.7 billion for real estate purchase, KRW 49.8 billion for construction). When complete, the Incheon Namdong Urban High Tech Industrial Complex will feature companies from the high tech manufacturing and information services industries. Adjacent to Gyeongin Expressway II, the Complex is expected to offer excellent access, and make interfacing with the nearby Namdong National Industrial Complex extremely easy. Incheon Metropolitan City and the Ministry of Land, Infrastructure and Transport plan to establish high tech manufacturing hubs in the metropolitan area focusing on R&D - primarily for the manufacturing of machinery and transportation equipment. Korea Land & Housing Corporation (LH), the developer for the Incheon Namdong Urban High Tech Industrial Complex project, will begin purchasing the required land during the second half of 2018, begin infrastructure construction in 2019, and open by 2021.
Summary of the Project
Location: 210-6, Namchon-dong, Namdong-gu
Site: 233,141㎡ (70,649 pyeong)
Business Type: Knowledge and information industry, high tech industry
Total Project Cost: KRW 168.5 billion
Project Duration: 2017 ~ 2021
Developers: Korea Land & Housing Corporation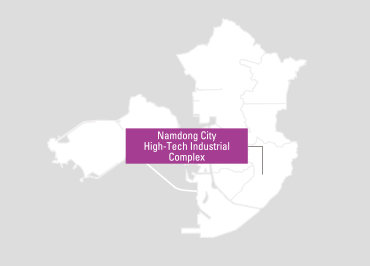 Inquiries
Investment Promotion Division (032-440-3286~8), Incheon Metropolitan City Government
Affiliated Organizations: Korea Land & Housing Corporation Incheon Regional Headquarters, Complex Development Division (032-890-5396)