LU 1 City Public Facilities Site
Directly connected to Incheon Subway line no. 2 and Gyeongin Expressway, LU 1 City offers easy access to and from nearby cities. Currently, property development has begun in some of LU 1 City's commercial districts.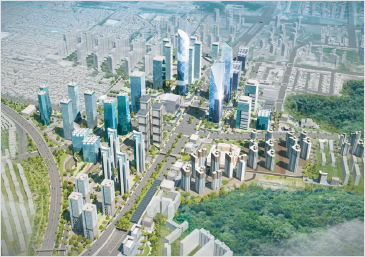 LU 1 City is a joint project led by the Incheon Metropolitan City Government and LH. When complete, it is expected to include residential properties, commercial properties, public facilities, and parks across a vast site stretching across 933,916㎡ (public mixed-purpose land). It is one of the larger development projects in progress in Korea with a total project cost of KRW 2.8798 trillion. In particular, thanks to the government's reclassification of Gyeongin Expressway (now a general road), access to and from LU 1 City is expected to improve dramatically moving forward. With better accessibility, LU 1 City will serve as a hub city for the northwestern districts of Incheon. Moving forward, barring any setbacks, LU 1 City will mature into a cutting-edge city that proposes a new paradigm for cities of the future, and an affluent and comfortable human-centric city.
Summary of LU 1 City
Location: Gajeong Five-way Intersection, Gajeong-dong, Seo-gu, Incheon
Site: 933,916㎡ (283,004 pyeong)
Total Project Cost: KRW 2.8798 trillion
Project Duration: 2006 ~ 2020
Developers: Incheon Metropolitan City Government, LH
Inquiries
Investment Promotion Division (032-440-3286~8), Incheon Metropolitan City Government
Affiliated Organizations: Urban Development Planning Division (032-440-4513), Incheon Metropolitan City Government